Company Overview
ICT4E is a technology house offering ICT-enabled solutions for education, empowerment, energy and environment. The Company has recently launched e-School franchise that is jointly engineered by Taaleem Foundation and The Education Consultancy, Singapore
ICT4E has established a number of Training Institutions in Pakistan for developing the human resource of value. With an endeavor to preserve, project and promote local heritage products of unique significance, the focus remains on grooming exportable human resource. Vocational skills, technical expertise, entrepreneurial know-how, access to capital and market linkages for poverty reduction and income generation are the foreseeable outcomes.
ICT4E is committed to conserve natural resources and promote renewable energy options to check global warming through reduced greenhouse gas emissions in pursuance of the agenda of Paris Agreement on Climate Change. The efforts reinforce the global obligation to sustainable development goals. The Company specializes in consulting assignments in this area.
ICT4E is engaged in various consulting assignments in the field of education, entrepreneurship, energy and environment. With its head office in Islamabad, the company has a strong pool of accomplished professionals who specialized in project design, implementation, monitoring and evaluation.
Use of innovative technologies in social sector developments and economic empowerment remains our niche.
Chairman
Dr. Zafar Iqbal Qadir– the founding Chairman/CEO of ICT4E. He has a wide experience of project management, public administration, climate change, disaster management and application of technology as solution for social needs. He is the former head of Pakistan's Ministry of Information Technology & Telecommunication and National Disaster Management Authority.
He is the lead author of Pakistan's national report on 'Intended Nationally Determined Contribution of GHG Emissions'. He is also the co-author of Pakistan's National Policy on Disaster Risk Reduction.
Chief Executive Officer
Asim Mustaq is a public finance accountant by profession with twenty years of experience in development sector. He has worked for many leading NGOs and consulting firms in Pakistan. Besides hard-core financial management, he equally excels in development administration, project management and technology innovations.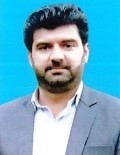 CFO / Company Secretary
Sajid Munir Qureshi is a CA Finalist and leads the finance department of the organization. He specialises in financial management and accountancy; and has a worthwhile experience of working with various organizations in the development sector of Pakistan. He is currently working as Chief Financial Officer at the Head Office.
Tech Lead
Quratulaen is a Full Stack Developer, Team Lead and Scrum Master. He is good at developing web application in Laravel and Livewire, Web Servers management, IT networking, Installation, fixation and up-gradation of IT Systems. He is passionate towards testing new technologies and is equally capable of trouble shooting of hardware and software both.